Store Information
After nearly fourteen years, our physical store location is now closed, but we are still doing business on the web. Just drop us an e-mail using the link on the home page, and I'll reply.

Any outstanding rental returns need to be returned to:
Laser Library
P.O. Box 1911
Hollywood CA 90078

The late fees will be calculated using the post mark date.


---
We were located in Pasadena at 1190 East Colorado Blvd. (2 1/2 blocks west of Hill (PCC) (626) 577-7035
---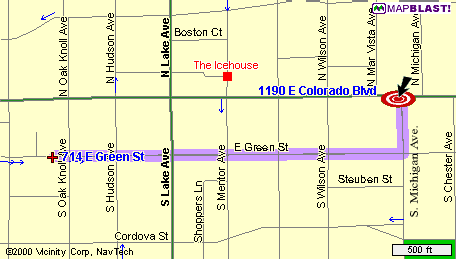 After nine years in our old location our landlord sold the property and we moved to our second location.
Our second location was 1190 East Colorado which is a little larger, close by and is about 2 1/2 blocks west of PCC (Hill St.). There is parking in the back and easy street parking.
We were at our second location from September 2000 to September 2005.
Step
Directions: From our old location to our new one.
Elapsed
Distance
1
Begin at 714 E Green St on E Green St and go East for 0.6 miles (6 blocks)
0.6
2
Turn left on S Michigan Ave and go North for about 400 feet to 1190 E Colorado Blvd
0.6
---



Our old Hours:

 (Pacific Coast Time)



Sunday                 12:00 noon to  8:00
Mon. thru Sat.         12:00 noon to 10:00




Our old Rental Rates:



Every Day:               $3.00 for 2 nights or $4.39 for 3 nights
Mon., Tue., Wed.         2 for $3.92 for 2 nights
Thur., Fri., Sat., Sun.  3 for $6.00 for 3 nights and free popcorn
Friday Special           4 for $8.08 due back on Tuesday and free popcorn 
Saturday Special         4 for $8.08 due back on Wednesday and free popcorn

Each additional day is only $1.39

LaserDisc rentals are for 1 week. Rent three lasers any day
and return them 8 days later.

---
Purchase Rates: Deduct 20% to 70% off the list price for Cash and Check purchases.
---